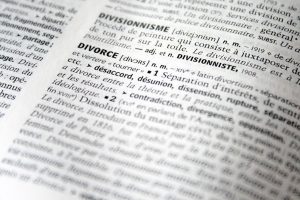 The Divorce, Dissolution and Separation Act 2020 is due to come into effect in England and Wales on 6 April 2022 allowing married couples to divorce without assigning blame or fault follows the royal assent of the Divorce, Dissolution and Separation Bill (commonly referred to as the no-fault divorce bill) on 25 June 2020.
This means that couples will be able to get divorced without one person needing to lay blame on the other. This change will also apply to civil partnership dissolution.
How will no-fault divorce work?
The announcement means that couples will no longer have to agree to be separated for two years, or have proof of their partner being at fault, in order to file for divorce.
Under the new laws, couples will be able to get divorced solely on the basis that the marriage has broken down, without needing to mention one of the 5 reasons for divorce (as is currently required).
It will no longer be possible to contest a divorce
The new process means that if the couple agrees to a divorce and the divorce is amicable or unchallenged, there won't be a requirement for one person to blame the other for the breakdown of the marriage.
There will be a minimum of 20 weeks between application and divorce becoming final
A minimum timeframe of 20 weeks has been introduced to counter concerns that the reforms will make divorce a quicker and easier option for couples rather than trying to save their marriage. This 'period of reflection' will give couples an opportunity to consider and work through their differences before committing to a divorce.
Changes to the two stages
The new process will still involve the two stages of Decree Nisi and Decree Absolute, but the names of these will change. The Decree Nisi will become a Conditional order of divorce and the Decree Absolute will become the final order of divorce.
Couples will be able to apply for divorce jointly
Under current laws, one spouse needs to issue divorce proceedings against the other. The person who starts the divorce is called the petitioner and the other person is called the respondent. Under the no fault divorce system, both people will be able to make the application jointly.
If you're about to start divorce proceedings, or currently going through the separation process, then speak to our divorce lawyer at Onyx solicitors, please call us on 0121 268 3208 or send us an email at info@onyxsolicitors.com with your query. We're here to guide you through the maze of emotions and legal responsibilities, every step of the way.